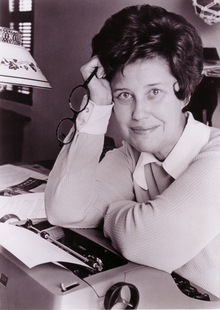 (February 21, 1927 – April 22, 1996)
When I think of someone like Erma Bombeck, who was so naturally funny and seemed to just slide into the world of writing and fame, it is difficult to believe that she ever failed. But, fail she did, and quite publicly. And yet, she saw it for what it was and moved forward, in spite of whatever setbacks she might have felt.
In 1975, many years after she had begun writing her newspaper columns and published a few books, Erma started appearing regularly on the TV show, Good Morning America. These spots began as two or three minutes of her zany twist on life and evolved into longer interviews with celebrities and soon she became a TV staple and a roaring success. This lasted for 11 years.
It takes a lot of courage to show your dreams to someone else. ~ Erma Bombeck
Eventually, because of her popularity, many different offers began to come her way. One was to adapt her 1976 book, The Grass Is Always Greener Over the Septic Tank, for a television movie, which, if successful, might lead to a permanent sitcom slot. On October 25, 1978, that TV movie starring Carol Burnett and Charles Grodin aired on CBS.
Unfortunately, critics hated the show, according to Erma's biography on the University of Dayton's ermamuseum.org page. 
Even so, a year later, ABC asked Erma to develop another sitcom idea. And so, she came up with the concept for a show called Maggie, about an ordinary family from Dayton, written from the mother's point of view. Although Erma had no experience writing for television, she agreed to write and executive produce the show.  Continue Reading…