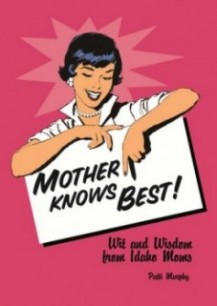 "You're running away? Let me help you pack." ~ Mom
My first book, "Mother Knows Best – Wit and Wisdom From Idaho Moms," is now being printed and will be in my sweaty little hands in a matter of three weeks.
What can I say? I suppose getting your first book into print is somewhat like giving birth to a first child — the anticipation, excitement, pain and insecurities all swirl around to make the event rather emotional.
Now that I have passed the book off to the publisher, my next challenge is the publicity, scheduling book signings and other book promotion. A lot of work and many unknowns. Fortunately, I have 30 years of experience in PR and media relations, I own my own PR firm . Still, that doesn't guarantee me anything. I still need to approach this project as professionally as I would for any of my clients.
About the "Momisms" book -

This first book is a compilation of "Momisms" – you know, those funny, crazy, inspirational, memorable things that mothers say to their kids as they are growing up. "Don't cross your eyes they will stick that way." "Just because your grandma farts at the table doesn't mean you can too." "If you swallow your gum your butt cheeks will stick together."
These are actually some of the Momisms I received for the book. It has been quite hilarious…mothers say the darndest things!
History of Momisms –
I started collecting Momisms in 1994. I became interested in the silly things moms tell their kids after hearing a doozy from my partner whose mom used to say that "shrimp tails are poisonous." This convinced her that eating shrimp would make her sick and perhaps kill her. To this day, she has never eaten shrimp, even though she knows logically that this Momism simply isn't true.
I then spent weeks collecting momisms from the people who worked in my office building, hoping that I could create a publishable magazine article. Some Momisms were cultural, such as the African American woman who said her mother would tell the kids to 'do to your neck what you do to your face.' She told them that if they washed only their faces, after a while it would fade and be a lighter color than their necks. This concerned the kids, being African American, so through a Momism they learned to do a thorough daily wash job, something the woman said she still did to that day.
One woman's mom used to tell her that plucking the hairs above her eyebrows could lead to brain damage. Another mom told her daughter that if she could smell anything about herself, such as underarm or feminine odor, other people had already smelled her for three days. Others pearls of wisdom included:

Don't sit on a boy's lap unless you have a phone book between you
Don't wear patent leather shoes or boys will be able to look up your skirt
Don't squeeze pimples on your face or the "gunk" could travel to your brain and kill you.
And, then there was the Mother of all Momisms: "Always wear decent underwear in case you get in an accident." What did this mean? That as you lay bleeding and hurt in a smashed up car the rescue workers would check out the condition of your undies before rendering aid? ("Hey Joe, can't help this one. She's got holes in her Hanes and the elastic's shot.") No, not even our mothers believed that. But, they did know that by playing on our fears of embarrassment and helplessness they could persuade us to change our panties every day. Thus, good hygiene habits were born.
And, that is the point of Momisms. They create behaviors, memories, ways of thinking and believing. What moms (and dads) say to kids can stick forever.
It took 15 years, but finally… –
When I was collecting the Momisms I was not a writer — except of course in my dreams. I worked full time in Public Relations and I had never published anything, anywhere. Perhaps it just wasn't the right time for me then, because another 15 years went by and I did nothing with my Momisms idea, even though I occasionally dragged it out and thought, "I really need to submit this somewhere."
Then in 2005 I began to write professionally, and by 2010 I probably had about 100 published newspaper and magazine articles under my belt. I began thinking of Momisms again, wondering what to do with it.
Mysteriously one night at about 3 a.m., I suddenly woke up with the thought, "Write a Momism book and donate the proceeds to the Women's and Children's Alliance." This idea was fully formed in my head at that moment, and I knew it was the guiding light I needed to finally give life to Momisms. I took the idea to my friend Elaine Ambrose, an award winning author and owner of Mill Park Publishing, and she enthusiastically embraced the project and said she would help. It has been a wonderful partnership.
The WCA is a wonderful program here in Boise that helps women and children who are victims of abuse and sexual violence. The organization just happens to be celebrating its 100th anniversary this year, and the Momism book will be available by Mother's Day!
So, here it is, about 17 years in the making, but finally my tribute to Momisms is becoming a reality. This journey has taught me a few things:
Sometimes the timing just isn't right and you need to wait and be patient
If you believe in something you can make it happen
There's nothing you can't do if you put your mind to it
Always Follow Your Bliss!
As always, thanks for visiting Murphy Writes. I would love to hear your thoughts!
Related Posts: