'MOMISMS' – the silly, funny, illogical things moms tell their kids!
Did your mom have a few crazy "momisms"?
Most moms did, so we collected them in a book

Mother Knows Better – Sense and Nonsense from American Moms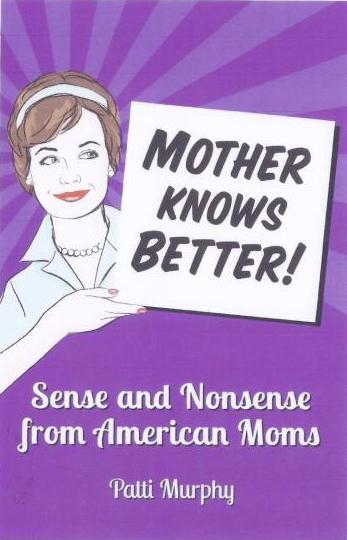 More than 200 submissions from all over the U.S. (and a few from Canada), this book contains the funny, weird, illogical, inspirational sayings that moms have told their children over the generations. This is a follow up to the book, Mother Knows Best – Wit and Wisdom from Idaho Moms.
REVIEWS
"It seems to have advice for nearly every circumstance, the profound and the profane with humor and grace, with guidance for how to be and how NOT to be. Think back on what words your mother provided you that serve you to this day and thank her." Edie Wienstein, "The Bliss Mistress"  Read more here.
"Mother knows best…for sure! I am one of the contributors in the book and couldn't wait to read the other momisms. These nuggets of wisdom are made for sharing. I snapped a picture of my page and send it to my grown daughter and asked "notice anything?" Of course, what my mother said to me…I said to her 🙂 This book is made for sharing and laughing and talking about 'what mama says because she knows these things' – some of which we may never understand but we do know all were said for guidance and from the heart. A great gift for mamas or mamas-to-be."  Deborah Hightower, Amazon reviewer
"Did your mother have any particular lines she used repeatedly? Chances are it's in this book – but better still, you'll be reminded of the things your own mother used to say, which can be sweet memories. It is the perfect Mother's Day or baby shower gift; lots of fun to read out loud; fun to think of what you say to your own children. Highly recommended." Jill Kuraitis, Amazon reviewer
It makes a fun gift for any mom in your life, even if it is a sister, aunt, grandmother, teacher, nanny, etc.! Available here through my distribution company, Doubletree Productions, or at Amazon.com.
——————————————–
Mother Knows Best! — Wit and Wisdom From Idaho Moms —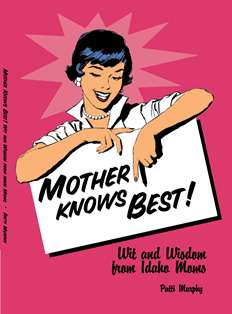 Our original "Momism" book, featuring the real sayings from real Idaho moms that we hold so dear: "Don't make me stop this car!" "You're running away? Let me help you pack." "Just because Grandma farts at the table doesn't mean you can too!"
Mother Knows Best – Wit and Wisdom from Idaho Moms will give you a good chuckle (and perhaps a few flashbacks!).

REVIEWS:
"What a fun book this is! It seems all moms say wise and crazy things. I'll never forget my mom's "momisms". I'm already passing them down to my son!" ~ Maggie O'Mara,  KTVB Newschannel 7 Anchor
"This book is a full of great motherly advice, anecdotes, and warm fuzzies. The author has done a great job of compiling the wit and wisdom from mothers in the Pacific Northwest. It even features a few celebrity momisms as well. It's a great gift idea for a birthday, anniversary, Christmas, Mom's Day, or just any old occasion that you feel like showing mom that you care. I gave this book to my mom for Mother's Day and it made her cry (in a good way). I'd say that's a pretty good gift for mom." ~ D. Mizzle, Amazon customer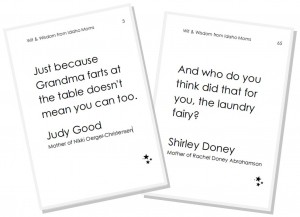 "Beware of the boy with the amazing eyes." All of us can probably remember at least one thing our moms said to us–and author Patti Murphy has collected some of those memorable bon mots in this adorable little book. From practical–"A little clean dirt never hurt anybody"–to inspirational–"Dream of angels"–these sayings will make you chuckle, smile, and they might even bring a tear to your eye." ~ E. Walton, Amazon customer
Makes a great gift for moms, grandmas, teachers, nannies, mothers-to-be and more! Available here through my distribution company, Doubletree Productions, or at Amazon.com.
———————————
little white dress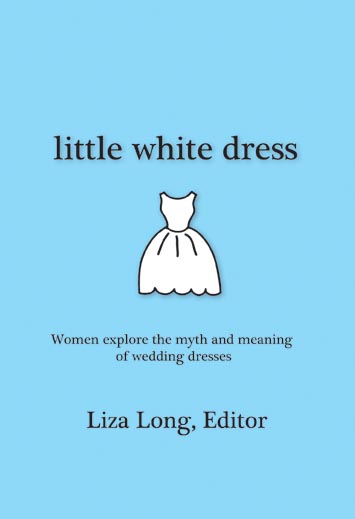 Patti Murphy was among the 26 featured authors who were included in the award winning (2012 Independent Publisher Book Bronze Award (IPPY) anthology, Little White Dress, a book of stories about the myth, magic and mayhem surrounding women's wedding day attire.  Award-winning author Alan Heathcock wrote the review for the back cover, and said:  "If I learned something about women from this awesome little book, it's that each has her own dress, her own story; some of hopes fulfilled, some tragic, some funny, all compelling. Little White Dress holds the truths of humanity stitched into every poem and story. It sometimes made me laugh, sometimes made me somber, but always made me consider how the value of the dress has little to do with the fabric." This book won the 2012 award of excellence from the Independent Book Publishers. Available from Mill Park Publishing or Amazon.com