Get updates by email
Visit my Public Relations company site
Visit my business website, Murphy Media Services. I provide public relations and freelance writing services
MY BOOKS, WRITTEN FOR ALL THE MOMS IN YOUR LIFE!


We remember with fondness the sweet advice of our dear mothers. "Haste makes waste." "Don't make me stop this car!" "Just because grandma farts at the table doesn't mean you can too!" Mother Knows Best - Wit and Wisdom from Idaho Moms will warm your heart and tickle your funny bone as many Idaho women and men recall words of advice they heard from their mothers. Makes a great gift!



Listen to your mother! This clever new book includes common sense and some nonsense from the well-meaning mouths of mothers across the country. Here are a few of the quotes from our American moms: "Don't walk on the carpet or you'll mess up the vacuum lines." "Have small town charm, but big city dreams." "If you swallow your gum your butt cheeks will stick together." Quotes come from well-known celebrities and the neighbor next door. A perfect gift for all the mothers in your life!

Recipient – Idaho Press Club Awards of Excellence

Recipient – Idaho Top 50 Author Award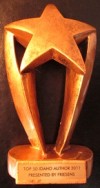 Meta