Why the darkest Christmas was my brightest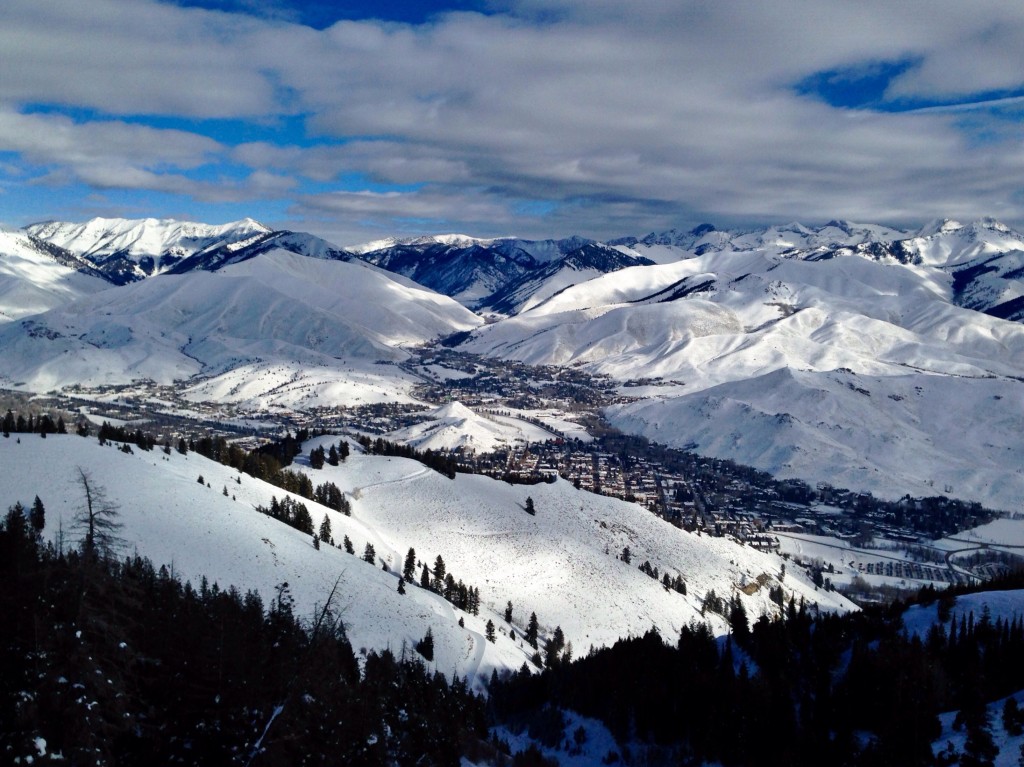 Ketchum / Sun Valley Idaho (Image Source)
It was Christmas 2009 and as in years previous, I traveled to the mountains to spend the holidays with my parents at their home in Ketchum, Idaho,  a small town of a couple thousand residents that could serve as the poster child for the holiday song, Winter Wonderland.
Christmas Eve night was just a typical Murphy family evening. Outside it was snowing like crazy. Dad was on his computer, I was on my laptop, the television was on in the family room and the dogs were fighting over a bone.
…we were wandering the house by candlelight and encouraging our dogs to please crawl into bed with us to keep us warm.
Darkness hits
Then suddenly, the lights went out and there was total silence and darkness.  As we soon found out,  it wasn't just our house that was hit. The entire Wood River Valley had lost electrical power. In the midst of sub-freezing temperatures, heaters went off, restaurant ovens shut down, the twinkle of Christmas lights disappeared, and hotels switched to generators…if they had one. I could just imagine the little kids asking their parents, "But how will Santa find us if we don't have our lights on?"
At first, this little hiccup felt a bit cozy, as we lit candles and stoked the wood stove. Surely, on Christmas, there eventually will be light, right? I made my first call of many to Idaho Power's information line for an update.
But, the recorded message, over and over and over again was "We have no information when power will be back on."
The winter weather had literally created "The Perfect Storm," as the combination of snow, ice, fog and a deep freeze descended on the entire area, whipping up conditions so bad that even the power crews had to use GPS to find their own substations
So, while holiday revelers throughout the rest of Idaho were toasting in toasty homes with twinkly lights dripping from their trees, we were wandering the house by candlelight, encouraging our dogs to please crawl into bed with us to keep us warm. 
…we bundled ourselves up in parkas and scarves, lit the propane barbeque out on the frigid, snow-covered back deck and my mom cooked bacon and eggs.
The bright side of darkness
Ketchum and nearby Sun Valley were filled with visitors who had flown in on lear jets to enjoy one of the best skiing areas in the country, and I'm sure total darkness and dead ski lifts were not their idea of a Merry Christmas. But for me, it was one of the best Christmases I remember. Why? Because with no electricity for 24 hours, my email/internet/cable television-dependent family simply got an uninterrupted chance to talk to each other.
We found ourselves in long conversations that weren't clipped short because someone had to go check email or get on the internet. We talked about family memories, work, pets, ideas and more. We had some laughs over silly family stories and I asked my parents questions about their memories and family history. We huddled around the wood stove until we went to bed. I learned later that my father had stayed up most of the night, stoking the fire to keep the house warm.
Cooking breakfast in the snow
On Christmas morning, with the power still out we bundled ourselves up in parkas and scarves, lit the propane barbeque out on the frigid, snow-covered back deck and my mom cooked bacon and eggs. As breakfast sizzled in the below zero air, my dad took a coffee pot over to the Sun Valley Lodge and they graciously filled it with enough brewed coffee for our family. By the time he got back home, the propane on the barbeque had run out, so he drove into town to have it refilled at a nearby gas station.
We opened presents under an unlit Christmas tree, and afterwards dad and I took the dogs for a walk in the snow. As the minutes and hours ticked by on that snowy day, we wondered if the power would be restored in time to cook Christmas dinner.
Feeling blessed
It was late Christmas day – nearly 24 hours since the blackout began – that the power finally came back on, thanks to the unceasing efforts of Idaho Power crews who worked outside in brutal conditions.  We were able to cook Christmas dinner and, as my family sat down for that special meal, we held hands and said a prayer of gratitude for all our blessings.
I didn't know then that we would only have my father with us for one more Christmas before he would pass away in the fall of 2011.  And so, the specialnesss of the time we spent together on that dark, quiet peaceful Christmas of 2009 remains one of my brightest and most cherished memories.